We are often asked by Yacht Engineers if they should go for the Y4, or the new SV 2nd Engineer CoC. We cannot tell you which CoC to go for, but we will try to give you all of the information so you can make an informed decision.
There are 4 options open to you, if you do not currently hold a CoC, and your decision will mainly be driven by how much service you already have:
We know Engineers love a flowchart, so we've put the above options into a flowchart for you!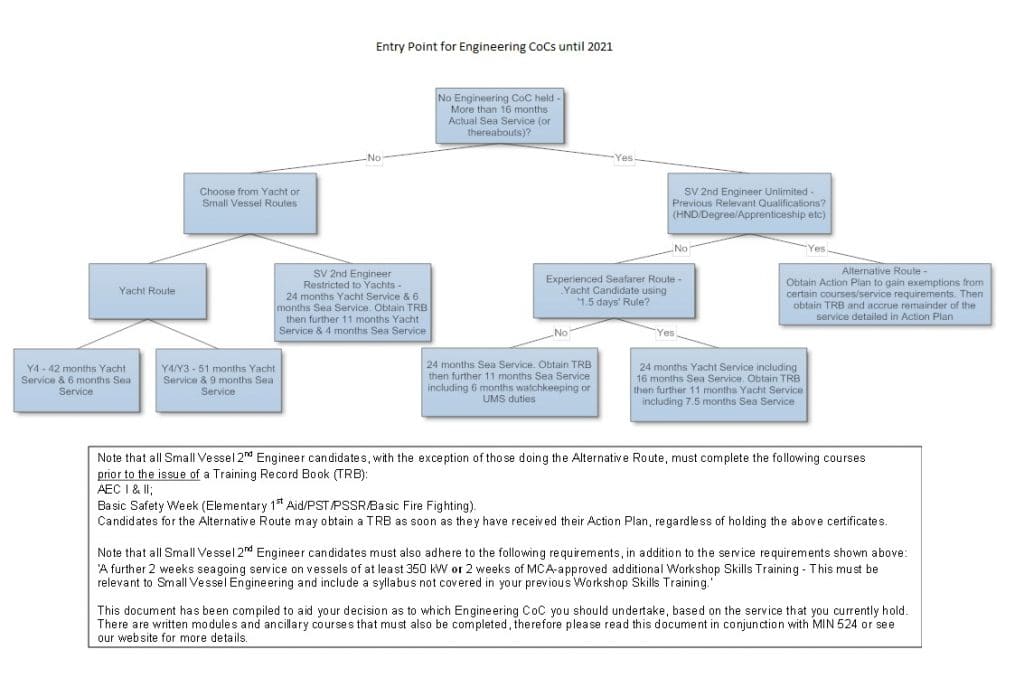 Depending on how much service you already have, it may be easier for you to do the Y4 or Y3, then convert to the SV route at a later date. The conversion routes are detailed here.
Note that for the SV CoC you must obtain a Training Record Book and then undertake a further 11 months of service – if you already have more than 24 months service, it would be wise to continue towards Y4.
Y4
For candidates who are planning on obtaining a Y4 CoC, it should be noted that from 31st July 2018 the Y4 written courses ceased to be available. If you already hold a pass certificate for any of the Y4 courses, they are valid for 3 years from date of issue, you just won't be able to sit the course and exam any more. They have been replaced by their SV equivalents:
SV Operational Procedures & Basic Hotel Services
If you have failed any of the Y4 written exams, you will be able to re-sit the SV version of the exam based on your Y4 course completion certificate. This means you don't need to do the SV version of the course again.
When it comes time for you to move on to Y3, if you did the SV Aux Equipment I course at Y4 level you will need to do the SV Auxiliary Equipment II course for Y3. If you did the Y4 Aux Equipment, this is not necessary.
You can move on from Y3 to Y2 as usual. If you completed SV Aux Equipment I & II for Y4/3, you will not need to complete the Y2 Advanced Hotel Services course, as the Aux I & II courses cover the topics on the syllabus for this course. If you did Y4 Aux Equipment, you will need to do the Y2 Advanced Hotel Services course.
The Yacht Engineer CoC route will be available until 31st December 2022
SV 2nd Engineer (Limited to Yachts)
The MCA have designed a 'Yacht only' version of the SV CoC, as the sea service requirements for the Unlimited SV 2nd CoC are quite hefty:
The service requirements for the Y4 CoC are 42 months yacht service with 6 months sea service – that's 3.5 years. The service requirement for the Unlimited 2nd Engineer SV CoC is 36 months ACTUAL sea service, which will take the average yacht engineer about 5/6 years to accumulate, depending on the yacht they work on.
This Limited version of the SV CoC gets new Engineers onto the ladder more quickly than the original SV requirements. Once the CoC (Limited to Yachts) is issued this would be upgraded to Unlimited once the required 'actual sea service' is achieved by the seafarer.
SV 2nd Engineer (Unlimited)
This is the original version of the Small Vessel 2nd Engineer CoC, covering Fishing Vessels, Yachts, Tugs, Workboats, Standby, Seismic Survey, Oceanographic Research Vessels and Government Patrol Vessels.
The MCA understand that seafarers serving on yachts would face difficulties in completing the amount of sea service required for the full SV 2nd Engineer CoC, and have made provision for this, stating that for the SV (Unlimited) CoCs, sea service performed on yachts will be counted as 1.5 times the number of days actually spent underway, therefore a Yacht engineer applying under the Experienced Seafarer route would need to provide 16 months sea service to obtain the TRB as opposed to the original 24 months, and a further 7.5 months whilst holding the TRB, as opposed to the original 11 months.
However, this cannot be used for calculating yacht service towards a yacht only restricted SV Second Engineer CoC or the Yacht Conversion Routes in Annex A of MIN 524.
You are able to claim 3 months or 25% (whichever is least) of the required sea service for your service in shipyards, repair berth, anchorage and at lay-up.