International Women's Day 2021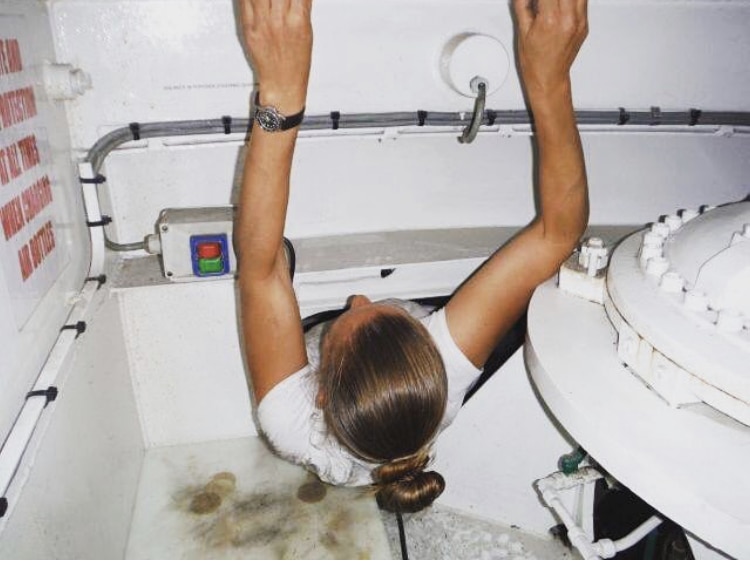 JPMA has been training Deck and Engineer officers for nearly 25 years. The vast majority of our students have been male, but in more recent years we've seen the balance tipped, with many more female students coming to us for their written and oral MCA courses.
On this International Women's Day we want to shine a spotlight on female crew who are breaking through the barriers and taking on roles that, until recently, have been traditionally undertaken by men.
Our Managing Director, Anna Percival-Harris, spoke to Liz Brasler, and Chloe Jones about their careers and ambitions in yachting:
Many of you will remember my late father, John Percival. He and I worked hard to set up and make a success of our crew training centre in Hoylake.
When he became ill and took a step back from the business in 2013, many people asked if I was going to 'take over' running the business. It had not occurred to them that I had already been running the business alongside him for many years, as my father had been the figurehead – the one they had met at yacht shows and dinners.
Although I had been at those yacht shows with him, I was not the one they chatted to over a warm glass of rosé, 'man to man'.
In the 7 years since his passing, it has become clear to me that, as a woman, I must work harder and be more hard-headed than he had to be, just to achieve the same outcomes.
Being a woman in a man's world
The word 'feminist' still sometimes has a bad rap – often conjuring up images of the militant bra-burning fanatics at the 1968 Miss America pageant (they never did burn their bras, by the way), but if you think that women are of equal value to men, then you too are a feminist.
I went to an all-girls' school, learned to sail at the age of 8, and was told that I could achieve whatever I set my mind to. Sadly, I was not told about glass ceilings or misogyny. On one occasion, when I was in my teens, I was watching the local lifeboat being washed down after a shout. I told a crew member that when I was old enough, I wanted to be a crew member. I was surprised when he told me that I couldn't join the lifeboat, as there wasn't a ladies' toilet on board. In my innocence, I took him at his word, not realising I'd just had my first encounter with casual sexism.
Fast forward 20-something years, and I find myself once again tackling the unthinking sexism that floats around the yachting industry. Never having worked on a yacht, I've not personally experienced the challenges faced by women on board. However, in our role of training crew, we see many female Deck and Engineer officers who tell us of the trials and tribulations related to doing a 'man's job'. Happily, it seems that the industry has made peace with the fact that a woman can navigate or do an engine room check, and a lot of headway is being made by female officers.
I wanted to find out more about two of these brilliant women, so posed some questions …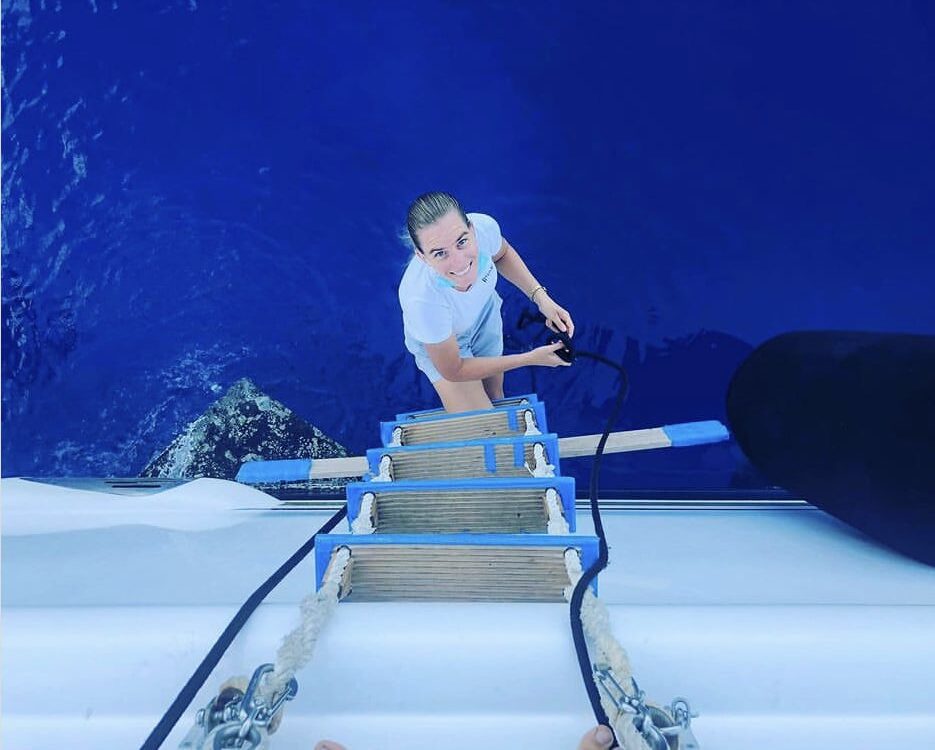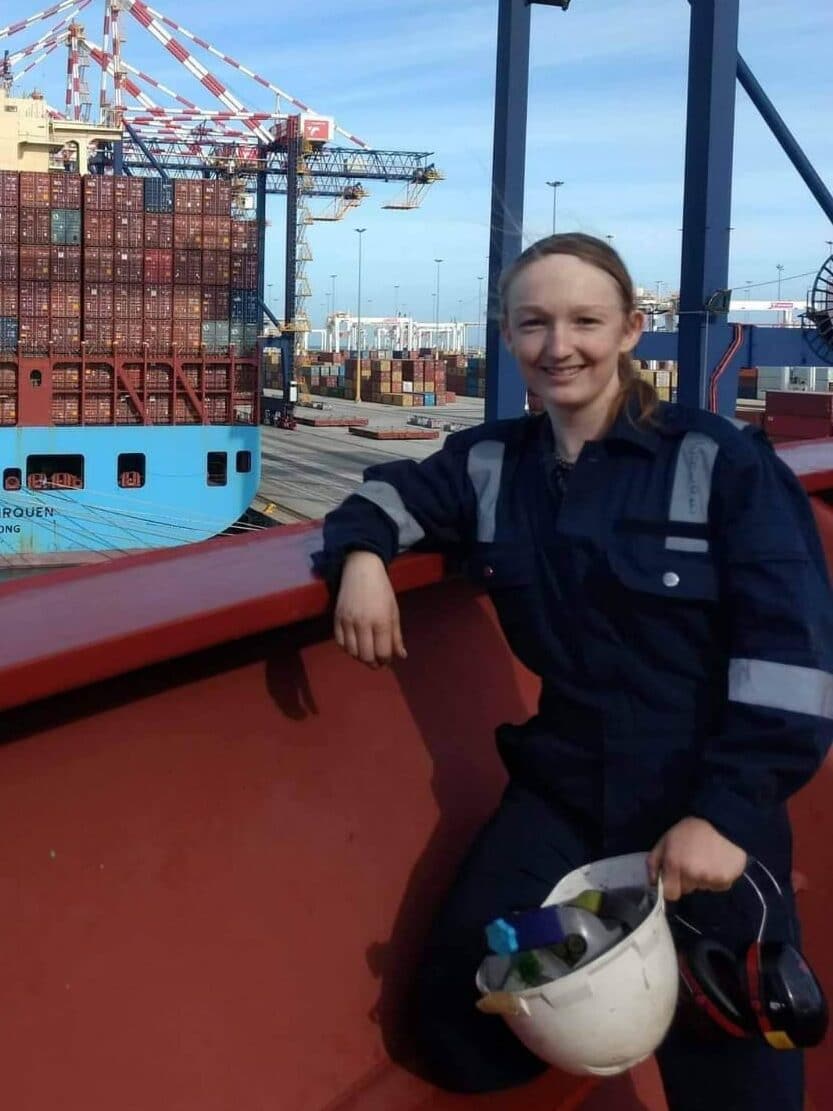 As a child were you interested in STEM subjects or anything that was not traditionally a 'girls activity'? If so, was that encouraged by the adults around you?
Liz: I only went to Junior School and left formal education at the age of 9 when our family set off on our sailing yacht. I was home schooled, but of course the STEM subjects interested me as I was immersed in the technicalities of running, maintaining and navigating a vessel. Before leaving Junior School, I insisted, much to the amusement of the headmistress, trying out every extra-curricular activity for one lesson. I finally took Judo, and I was the only girl in the class for many years. At age 7 I had scuba dived in our pool, and I loved riding a small Italjet off road motorcycle. My parents never restricted my interests provided I was careful and thorough.
My Mom is one of the guys, she is still sailing, spearfishing and kitesurfing like a 30 year old.
Chloe: I started boxing at 15, I have been lucky growing up as I was always encouraged by the adults around me to do what I love! The coach was very enthusiastic to get more women into the sport.
I have also always had an interest in motorbikes, and how things work, that led me onto studying engineering.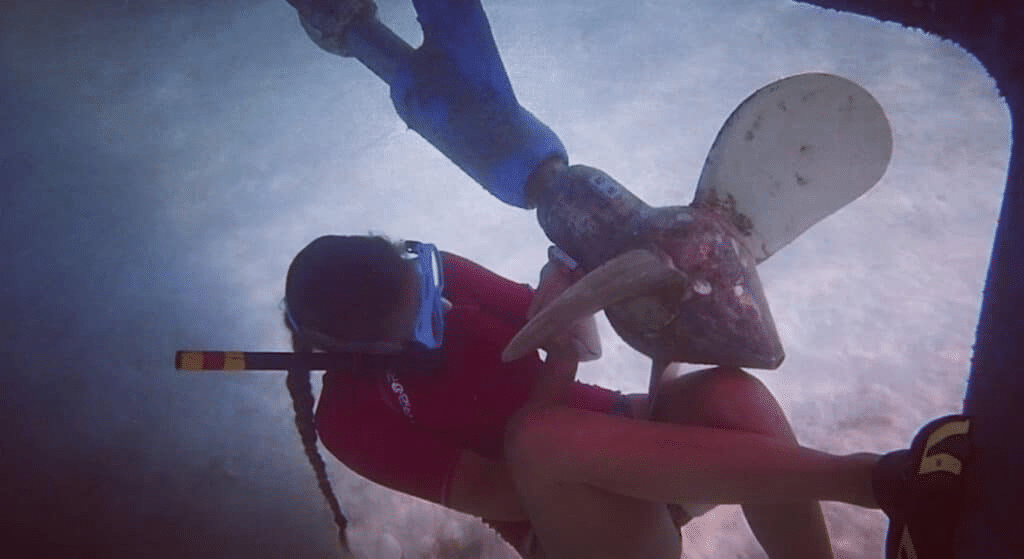 How did you get your first position on board, and what was it?
Liz: My first temporary contract was a deckhand/divemaster position in St Maarten, on a 54m Delta which I got dock walking in a rather amusing story which involved being chased by a Captain on a bicycle in 2006. However, in 2008 I had completed my PADI MSDT in Florida and I received an email from a Captain who was looking for a Dive Instructor/Deckhand. I flew from Roatan to Palma for the interview at Club de Mar where I was lodging on a friend's yacht. The interview was successful and a few days later I was on my way to Kiel to join the vessel at the end of her build and spent 2 years onboard.
Chloe: I was selected for a Marine Engineering apprenticeship with Maersk Line.
During my apprenticeship I had to undergo work-based training on board. I was 18 when I took on my first position as an engine cadet.
I joined Maersk Liquern, a 300m container ship, for 3 months.
Were there any obstacles along your path to your current role?
Liz: There were many. Mostly stemming from gender-based prejudice. The requirement to do more than male counterparts for less reward. Surprisingly, most of the hindrance came from people who should have known better. Unfortunately this is real, although some enlightened people are now making a difference.
Chloe: There were no real obstacles along my path, just a lot of hard work and dedication. I always felt like I had to prove that I was capable of doing the job just like anyone else.
I have had the privilege of meeting some very good engineers along the way, that have gone above and beyond in assisting my development as an engineer.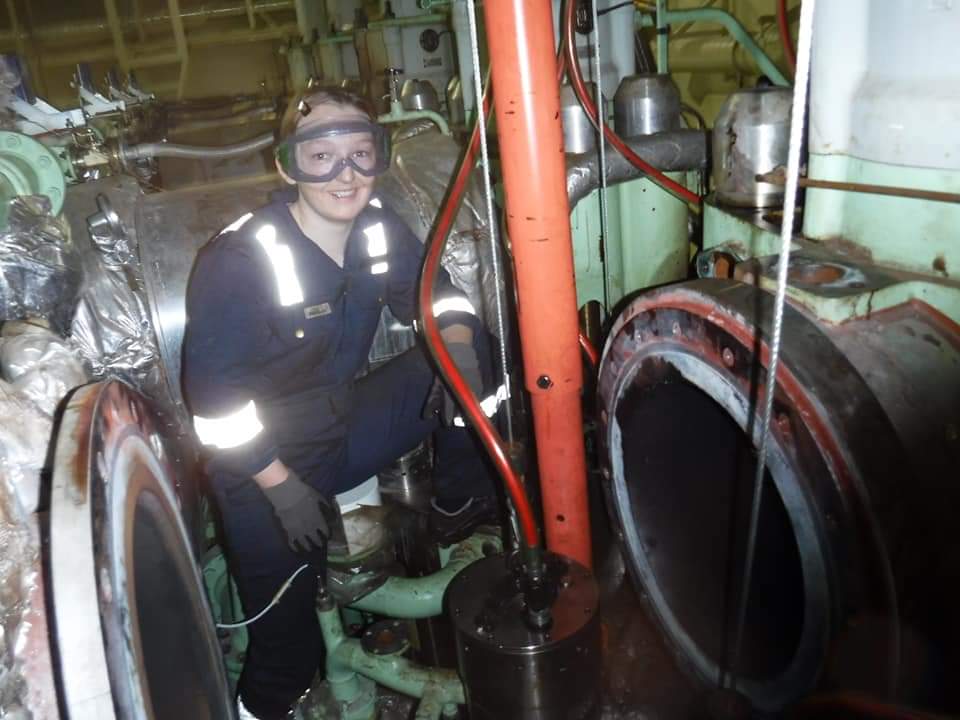 What's the best part of your role?
Liz: I love being in a position where I am able to help crew and guests experience new and exciting things.
This includes everything from crew career progression to teaching guests how to SCUBA dive and small children how to swim for the first time.
Off season, project management and surveys are my next favourite things.
Chloe: I enjoy being hands on and a part of a team. Though I have always been curious about how things work. I especially enjoy learning about engines, I work on my motorbikes myself at home.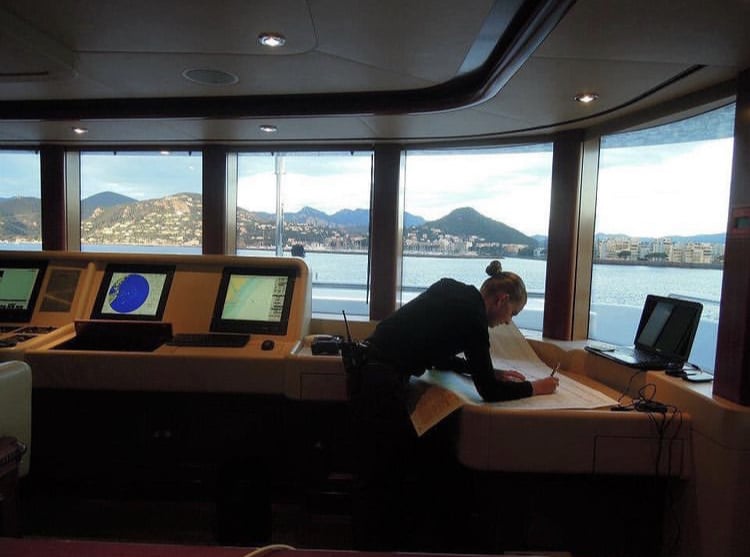 Do you have any other career goals set for the future? Can you see any potential obstacles along that route?
Liz: I would like to be a co-captain, a position where my name is on the insurance documents, appointed as Chief Mate but officially step up to Captain whenever possible on a larger say, 65m+ vessel, or get my own command on a 45-65m. I also enjoy the challenge and accomplishment of new builds, as you can see the progress of working towards a goal. A research vessel position would be amazing. I suppose everyone wants those.
Obstacles should be avoided, just like safe navigation, however if faced with them, a way through is always possible.
Chloe: I have recently made a big decision to leave my role as a 3rd engineer on a Carnival cruise ship, during one of the most uncertain times the world has faced, but it paid off as I have just taken on my first role on board a super yacht.
That proved to me that if you're willing to take the chance things will work out for the better.
It is a big change from commercial vessels, but I have thoroughly enjoyed my time onboard the yacht so far.
I keep a very open mind to the future, but to be a Chief Engineer on a yacht one day would be a goal to aspire to!
What advice would you give to your 15 year old self?
Liz: Wear Sunscreen. Write down your plan and career path. Learn to project power.
Chloe: Stay committed to your goals and dreams – if you're willing to put the hard work in, you will get there!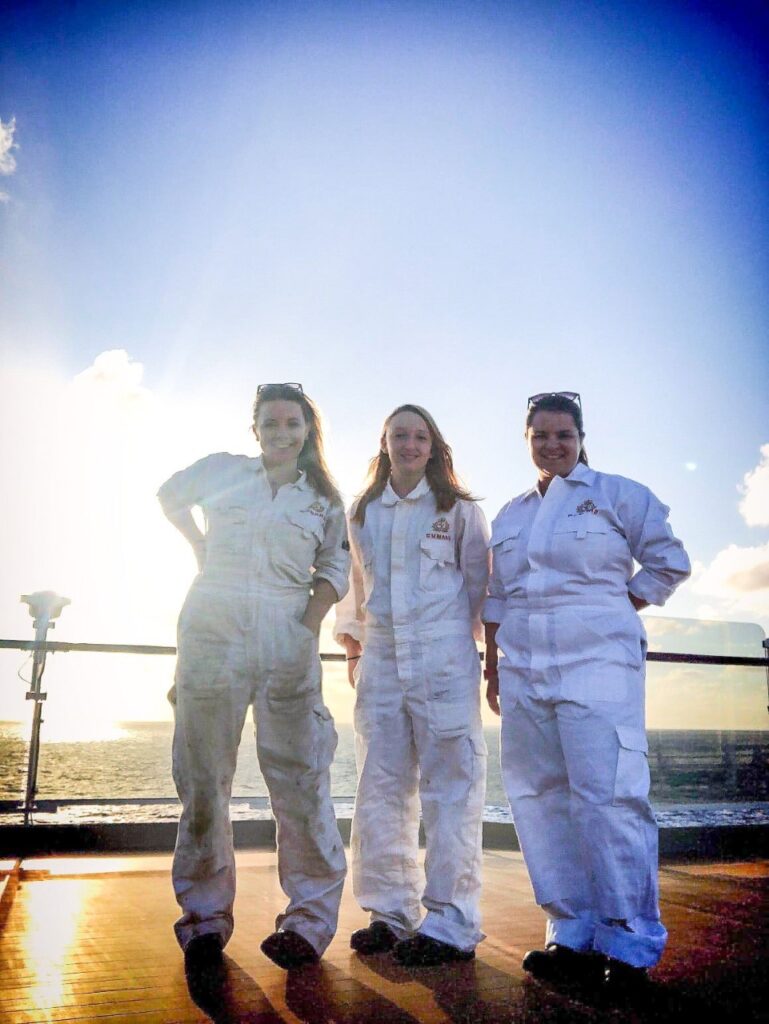 As a training provider, we often receive calls from young people who want to get into yachting. They ask what courses they will need to do, so the first question we ask them is what department they see themselves working in.
I've lost count of the number of young women who assume they can only work as a stewardess, but they've been sailing dinghies since they could walk, have numerous small boat qualifications and countless miles under their belts. Why does it never occur to them that they're in a position to become a deckhand?
There are now more women on deck and in the engine room than ever before, and I'm hopeful that the lived experiences of others like Liz and Chloe will help to guide more in the right direction.
There needn't be a gender gap on board when we're all created equal in our ability to succeed.