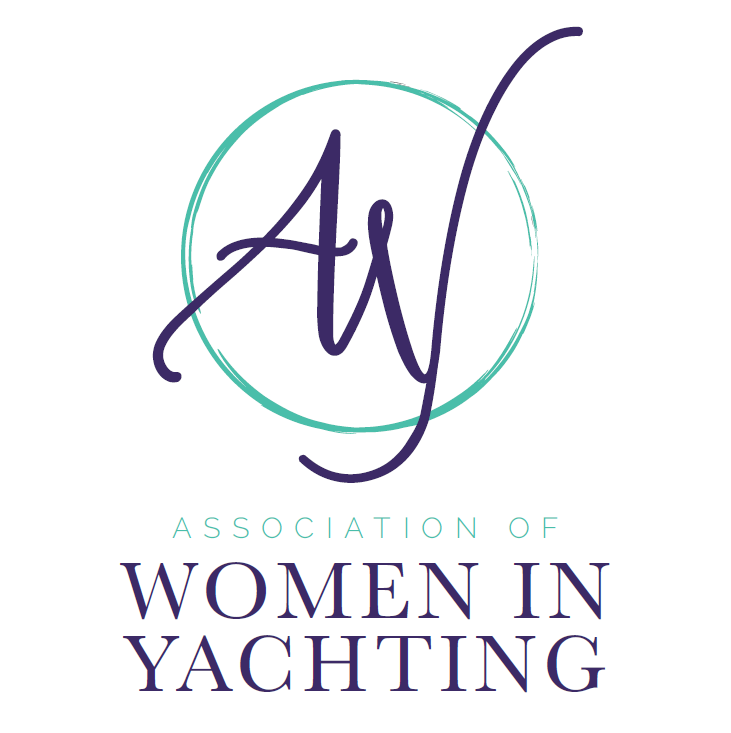 —
Be a part of something powerful… a resource for professional, mostly shorebased, women in the yachting industry to network and surround themselves with like-minded female industry leaders.
Join us at our next networking event, during Monaco Yacht Show: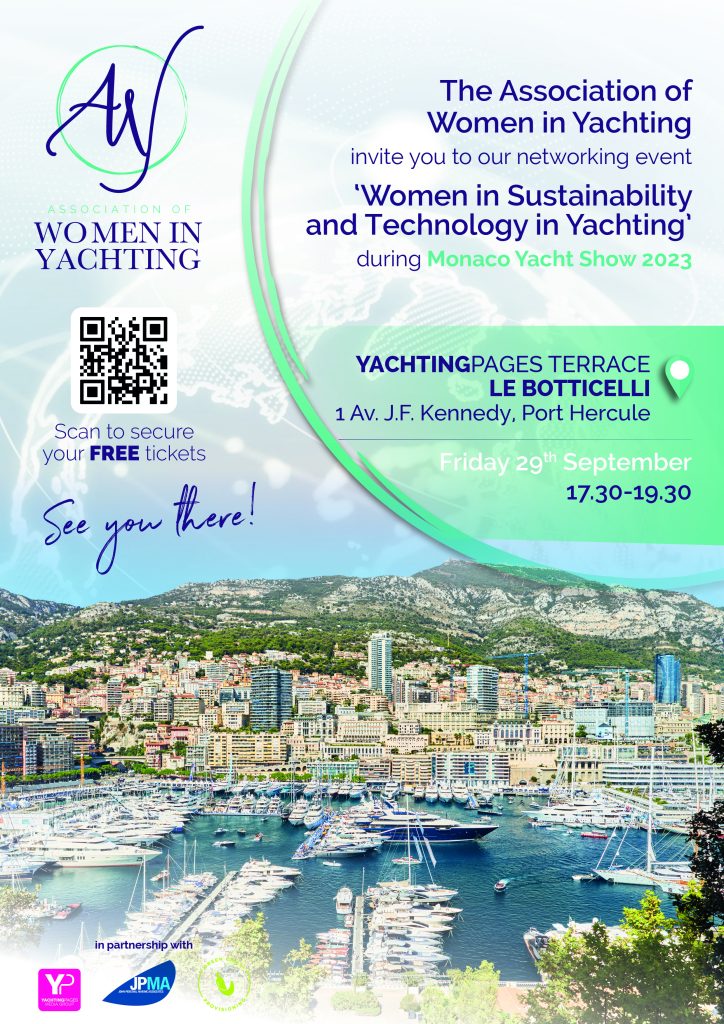 .
Join us for a groundbreaking event hosted by the Association of Women in Yachting, during Monaco Yacht Show 2023 – 'Women in Sustainability & Technology in Yachting'.
The yachting industry has seen a remarkable shift towards improving sustainability in recent years. As we navigate the waves of change, it's crucial to explore how technology and innovation are driving this transformation, and how women are an integral part of this transition.
At our 2023 networking event, we're bringing together the trailblazers who are driving eco-friendly solutions in yachting. It's an opportunity to connect, inspire, and collaborate on sustainable innovations.
These women are shaping the future of yachting, and their contributions are indispensable.
This year's AWY networking event during MYS is taking place on the Yachting Pages Terrace, at Le Botticelli restaurant, overlooking Monaco Port, on Friday 29th September 1730-1930.
Register for your free place now, and join us as we chart a course towards a more sustainable and tech-driven yachting industry.
We can't wait to see you!

—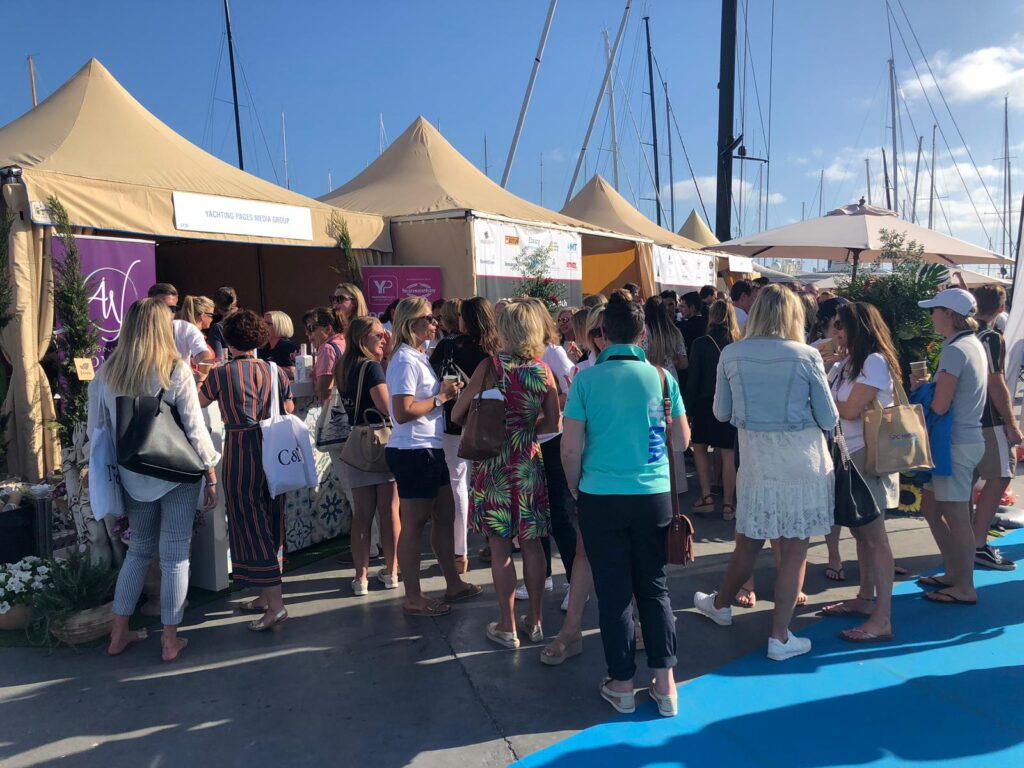 For many years the Superyacht industry was one of the only areas of commerce without a specific female only network/support mechanism in place. In 2018 the Association of Women in Yachting was founded by Anna Percival-Harris, Managing Director of John Percival Marine Associates (JPMA).
The AWY provides a resource for professional, mostly shorebased, women in the yachting industry to network and surround themselves with like-minded female industry leaders.
As the AWY members' website is currently under construction, we have a facebook group, which we would like to invite you to join, as it provides a forum for discussions between members – visit our facebook group.
We're also on Instagram and LinkedIn, so you can interact with like minded women on your social media platform of choice.
Our aim is to hold networking events at as many yachting events and boatshows as possible, to provide a female only space in which women can network with their peers. Our first networking events were held at Palma, Monaco and Antigua yacht shows in 2019. Sadly, the pandemic got in the way of us meeting face to face in 2020/21, but 2022 saw our networking go from strength to strength!
.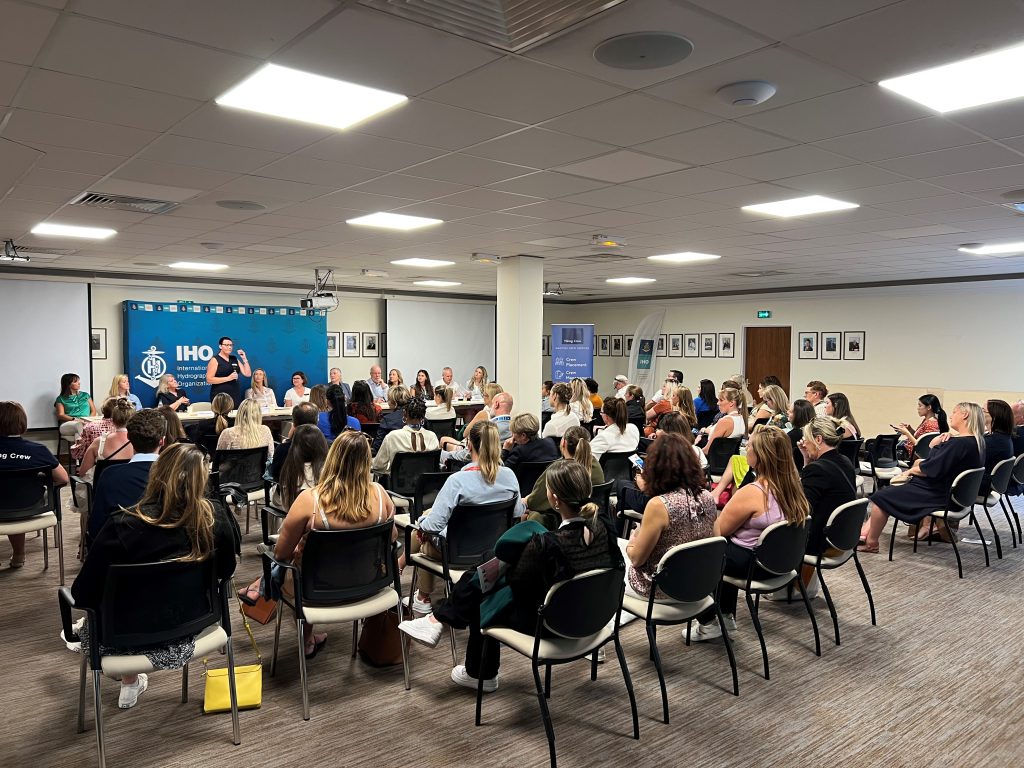 On International Women's Day 2019 the AWY set out its mission statement as follows:
'To provide encouragement and endorsement to our female colleagues in the Yachting industry and to celebrate and value our self worth at all times.'
.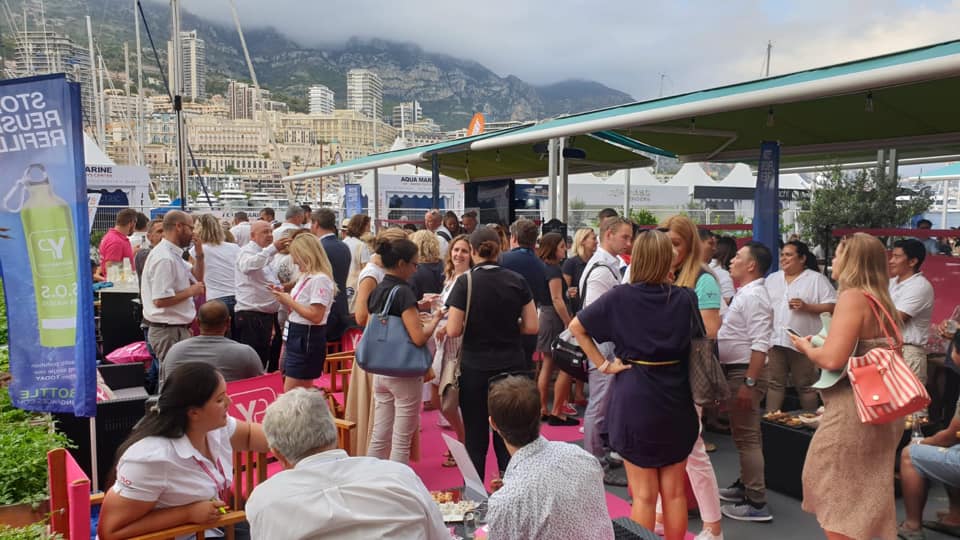 —
Our Directors and Honorary Members

Anna Percival-Harris – Managing Director, John Percival Marine Associates/Hoylake Sailing School Ltd.
Founder & Director of Association of Women in Yachting.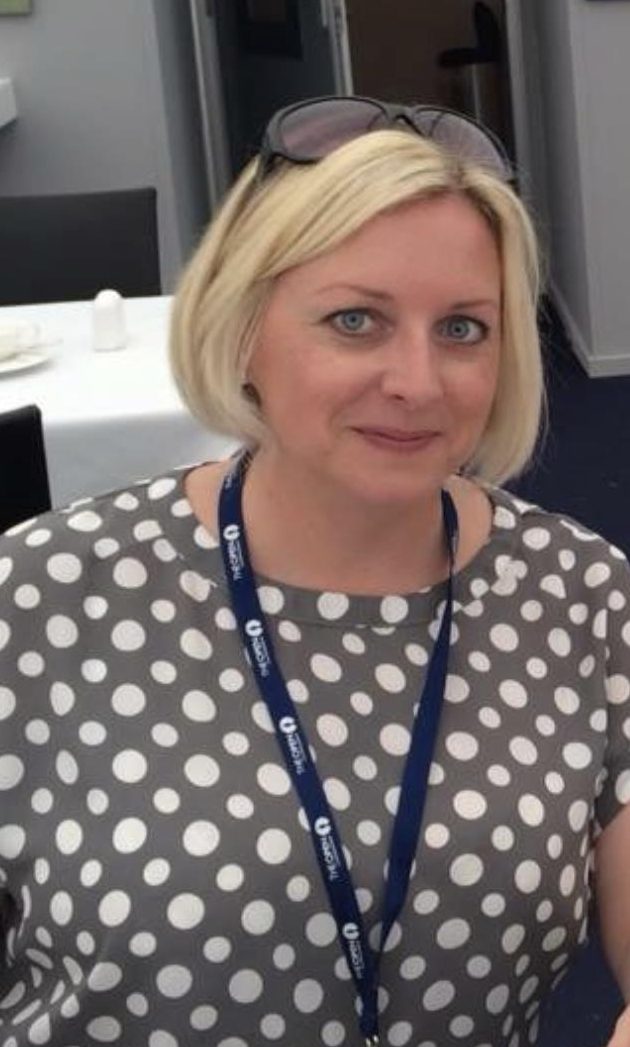 Anna learned to sail at the age of 8, but set her sights on a career in the performing arts rather than going to sea.
She worked with her late father, Captain John Percival, to establish Hoylake Sailing School in 1996, during the first year of her Performing Arts Management degree at Liverpool Institute for Performing Arts. She worked in the organisation between semesters whilst at LIPA.
After graduating, Anna worked for a regional radio station in sales & events, before moving on to become Events Manager for a company providing in-house training in the Public, Private and Voluntary sectors.
She returned to the family business in 2004 and developed the organisation to become incorporated in November 2006 and begin trading as a limited company on 1st January 2007.
Since then, Anna has worked as Managing Director, developing JPMA/HSS Ltd into the largest privately owned maritime training provider delivering training to the 'small craft' commercial sectors including Superyachts and Workboats. The organisation delivers more than 40 maritime courses accredited by either the Maritime and Coastguard Agency, an executive agency of the Department for Transport, or the Royal Yachting Association.
Anna has 3 young children, which makes for an interesting work/life balance!
"In a traditionally male environment, the Association of Women in Yachting provides a networking platform for professional women in the yachting industry. I've lost count of the number of networking events or yacht show cocktail parties I've been to where I found myself thinking "there should be more women here"!"

Anna Percival-Harris
—
Emma Oakden – ex-Accounts & Personnel Manager, John Percival Marine Associates/Hoylake Sailing School Ltd.
Director of Association of Women in Yachting.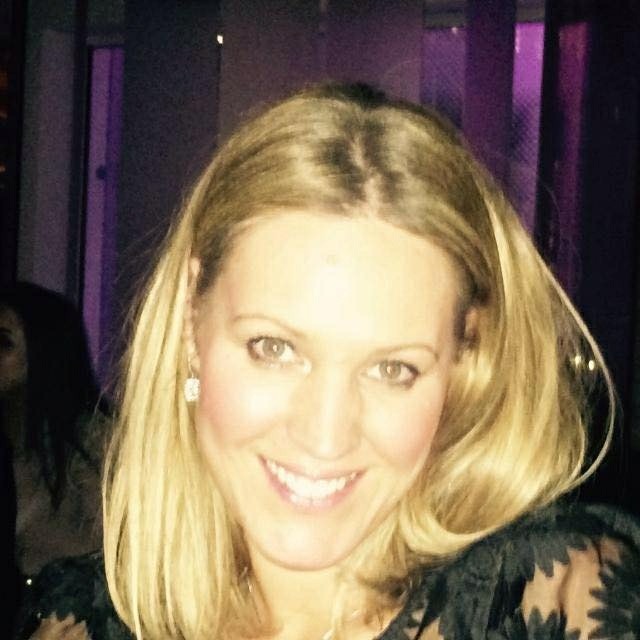 Emma graduated from the University of Liverpool with a degree in Geography and from there undertook a Law conversion course. She practiced as a commercial lawyer in a major international law firm until taking a career break to have a family.
Emma's return to work saw her enter the yachting industry, working for JPMA/Hoylake Sailing School Ltd, a leading crew training provider. She has spent the last 3 years learning about the industry from the grass roots up, and she is looking forward to her future with the Association of Women in Yachting.
—
Julie Davies – Centre Manager, John Percival Marine Associates/Hoylake Sailing School Ltd.
Honorary Member of Association of Women in Yachting.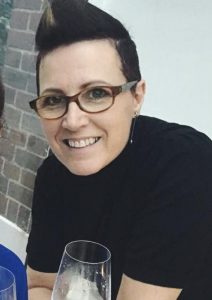 Julie attended Elliot Clarke School of Dance and Drama, and her ambition was to become a professional dancer on a cruise ship. After pausing to start a family, Julie chose a shorebased career, and has worked in various industries. She has been Manager of a well known hair salon, and also worked as a Disability Sports Development Officer for Wirral Borough Council.
Julie joined JPMA/Hoylake Sailing School as Centre Administrator in 2007, and is a member of their Business Development Team. Julie was promoted to Centre Manager in 2015 and has since then assisted MD Anna Percival-Harris in the running of the organisation. Julie is an SQA and IAMI exam officer, administrating all written exams for students at the training centre.
Julie runs a wheelchair dancing club, 'Hot Wheels', which is now in its 17th year. Julie won a BBC Christmas Star Award in 2017 for her work with Hot Wheels, and was also nominated for the Cheshire Woman of the Year in 2017.
—
Bridget Featherby – Crew Administrator, Yacht Management Dept, Camper & Nicholsons.
Honorary Member of Association of Women in Yachting.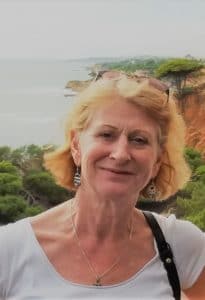 Bridget, AKA 'Yorkie', grew up on a farm in a small village in Yorkshire, and went to college in both Nottingham and Leeds, studying Retail Management and Display followed by Sales and Marketing respectively.
She discovered yachting by accident, whilst on holiday, and this led to a 15 year career working on yachts travelling throughout the Mediterranean, Caribbean and Pacific. She particularly enjoyed the challenge of new build and refit situations which she was fortunate to be involved with.
When it became time to put down roots, she chose France as her home and using her experience gained aboard, she worked for various supply companies in sales and marketing, followed by a 10 year stint with the Professional Yachting Association as Office Manager, which she enjoyed tremendously, and which was very challenging at times having to juggle many balls!
Bridget now enjoys her current position with Camper and Nicholsons in the Yacht Management Department and feels that her good all round knowledge of the industry and contacts make her an asset to the team. Her main responsibility is handling the crew paperwork for the ISM, ISPS and MLC2006 compliant vessels.

"Yachting was traditionally a 'man's world' but over the years I have seen many changes with more and more females taking predominant positions, Captains, Engineers, Sales Brokers and Management to name a few. I feel that this is a big step forward and think that this Association will help enormously to bring these ladies together."

Bridget Featherby
—
Chantal Flashman – Interior Manager, Imperial Yachts.
Honorary Member of Association of Women in Yachting.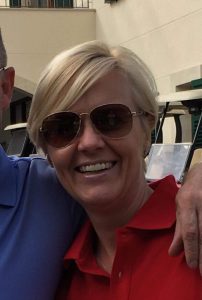 Chantal was born in Holland and spent her youth riding horses and sailing with her Father.
She knew she wasn't someone who could sit in an office day in, day out and began working in restaurants and hotels to afford her horse addiction. As soon as it was possible she gave up on her original career choice of business and law and moved to the hospitality side.
She eventually switched the cold weather for the warmer winds and waters of Palma de Mallorca at the age of 22.
Chantal spent the next 10 years on several different sailing and motor yachts cruising the Med and Caribbean as Stewardess, Chef and Chief Stewardess, before meeting her husband 14 years ago. After working together for a couple years on board they moved to working ashore, going into the construction side of yachting.
This led to Chantal being approached 9 years ago by Imperial Yachts to start their interior department. This is a side of yachting she thoroughly enjoys, as she is still able to work with lovely young people on board amazing large yachts.
—
Lucy Jones – Captain.
Honorary Member of Association of Women in Yachting.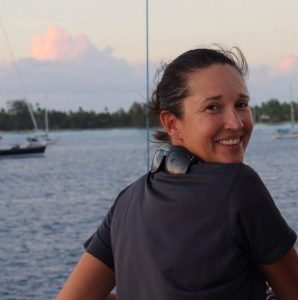 Lucy grew up in Brisbane and in 1999, at 21 years old, moved to Airlie Beach. That small move set her on a path she could never have imagined. She began working for a cruise company, doing daily trips out to the Great Barrier Reef and ferrying people around the Whitsunday Islands. After 2 years she decided it was time to head overseas.
Lucy wanted to travel, but didn't relish the idea of being a 'broke backpacker', so decided that a year or two in yachting would be fun. She found out about the industry through work colleagues, one of whom was now in Fort Lauderdale. In early 2001 she jumped on a plane, signed up with all the agencies in town and within 3 days she was stepping on board a 36m yacht as a Deck/Stew, bound for New York and New England the next day.
She decided early on that she wanted to be on deck full time, and was blessed with some truly great Captains who believed in her, even when she didn't. They taught her and encouraged her, and by 2003 Lucy had a Yachtmaster qualification. When the mate on board her 36m expedition yacht left, Lucy took over her position, logged every bit of sea time she could, and did courses whenever time permitted. Lucy gained her OOW <3000gt in 2004, and her Master <3000gt in 2007. She went on to Captain a 32m Sunseeker for 2 years, and has worked as First Mate on yachts ranging from 35 to 73 metres. She has crossed the Atlantic 10 times and finally made it to the Pacific for her last season in 2015.
Lucy retired from yachting in January 2016, and is now a Futures Trader. This allows her to continue travelling whenever she gets itchy feet!

"Yachting gave me some of the best times of my life and I will always miss the camaraderie of a great crew and those ocean crossing days when there's nothing but you and the big blue."

Lucy Jones.
—
Fiona Maureso – Senior Charter Broker, Northrop & Johnson.
Honorary Member of Association of Women in Yachting.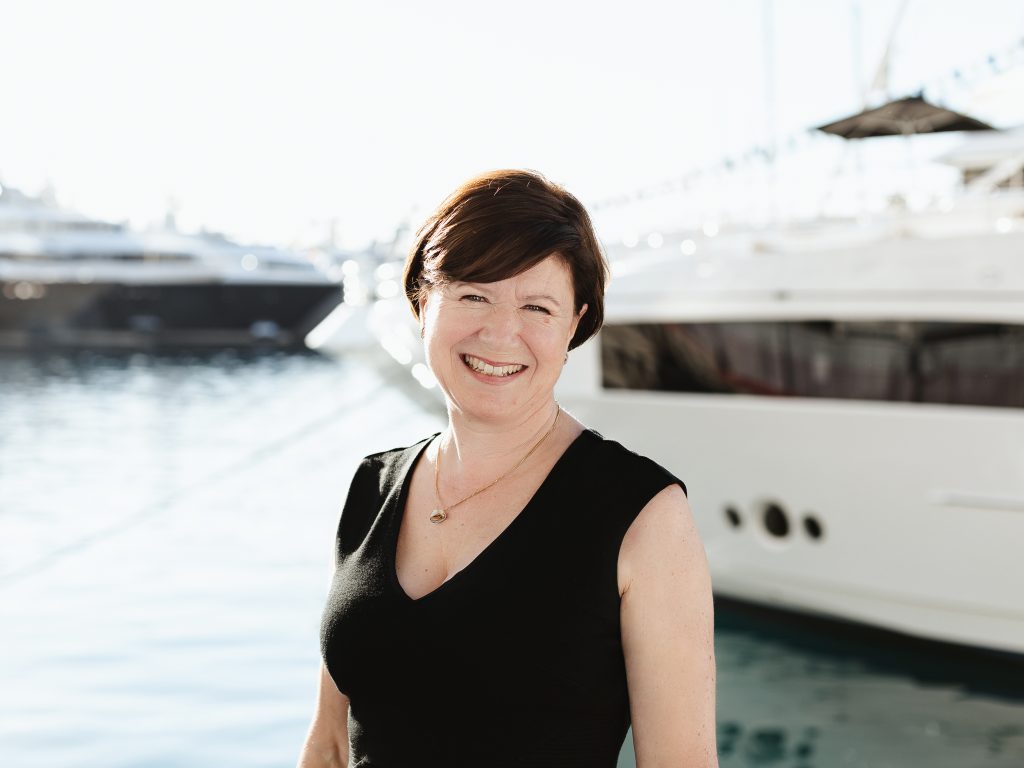 After graduating from the University of Bath with a degree in European Studies, Fiona left her native England to explore the world of yachting in the South of France. She worked briefly as a deckhand/stewardess on a 40 metre motor yacht, before moving ashore to train as a charter broker. This led to a successful career in both retail charter and charter management, working for three renowned brokerage houses in Antibes over the next 25 years. In January 2013, Fiona joined Northrop & Johnson as Charter Director to expand their presence in the South of France.
Throughout her career, Fiona has been an active member of MYBA The Worldwide Yachting Association and has served as both President and Vice-President, as well as contributing to various committees.
"I believe that it is vital to support and encourage women in this male-dominated industry and have been a supporter of the AWY since its creation. Women are playing an increasingly prominent and important role in all aspects of yachting and it is high time that their contribution is properly recognized, respected, valued and nurtured."

Fiona Maureso
—
Joey Meen – Director of Training Development and Certification, PYA. CEO, GUEST Program.
Honorary Member of Association of Women in Yachting.
Joey has been actively involved with education and training development, certification needs and career advice for yacht crew for over 28 years.
Joey started her career in yachting in 1990 running an RYA school in the UK before arriving in France in 2002 to oversee the training departments at Freedom Yachting & Bluewater Yachting before setting up her own business ASKJOEY in 2005.
ASKJOEY ran for 12 years, offering advice and guidance with the training structures, certification needs and career planning for the Deck, Engineering, Interior and Chef Crew, whilst working closely with regulators such as the MCA, RYA and PYA, representing yacht crew from all onboard departments.
Joey has been active within the PYA Council since 2005, being appointed as Honorary Secretary, then heading the CPD working groups, to Director of Training Development and Certification and is now the appointed CEO for the GUEST Program.
Her experience on the front line of yacht training development has included attending internal meetings such as the MCA Yacht Qualification Panel, the IAMI Small Craft working group and heading the Continuous Professional Development Workgroup for the PYA.
Joey has been instrumental in initiating a number of training development projects in conjunction with the industry, projects such as the development of the RYA Personal Watercraft Safety Course for superyachts in 2004, the PYA/RYA Superyacht Tender Operations Course in 2015, as well as working with the MCA on the Ships Cook Assessment, and the GUEST Interior Crew Training and Certification platform; to name a few examples.
Joey took the lead on the interior training program GUEST initiative in 2008 and is committed to being the backbone of the project, continuing to manage the development, operations and administration of GUEST, working with the trainers, industry professionals and crew to ensure that the value and standards of the GUEST Program are upheld and maintained for the future of training in the Interior Department.
—
Lisa Peck- Global Marketing Manager, Fraser Yachts.
Honorary Member of Association of Women in Yachting.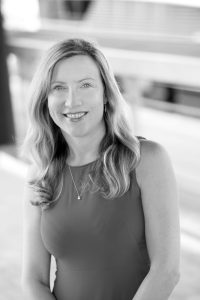 Lisa grew up on the south coast of England where she started sailing on the local village creek at an early age. After studying European Business with French and spending a year on the south coast of France as part of her studies Lisa decided to return to the Cote d'Azur to continue working on her French and has never looked back.
Her first job was as a Bi-lingual Communications Assistant at the Yacht Club de Monaco, where she was introduced to the world of superyachts. She then joined the global marketing team of an international IT company where she developed her marketing skills further before returning to the world of yachting at her first yacht brokerage company, Y.CO. She remained for 5 years developing the brand and heading up the marketing team of the rapidly growing business. In 2011 she joined the ranks of Fraser, where she could manage more international marketing activities. As the Global Marketing Manager she oversees all the marketing for Fraser, both the corporate side and all the yachts represented by the company, allowing her to combine her passion for both travel and yachting.
In 2013, Lisa helped set up the Monaco branch of Young Professionals in Yachting, encouraging young people in the industry to develop their network, do personal development and learn more about the industry in general. She served as President of the now 150 strong association for over three years, before stepping down and taking up the position of International Liaison Officer.
Now with nearly 20 years' experience in marketing, the majority of which has been in yachting, Lisa is passionate about helping young people in the industry, improving the overall perception of the industry to the outside world and helping the industry to become more environmentally aware and ensuring that there is a yachting industry for both clients and colleagues to enjoy in the future.
—
Jessica Pegg – Senior Relationship Consultant, Yachting Pages Media Group.
Honorary Member of Association of Women in Yachting.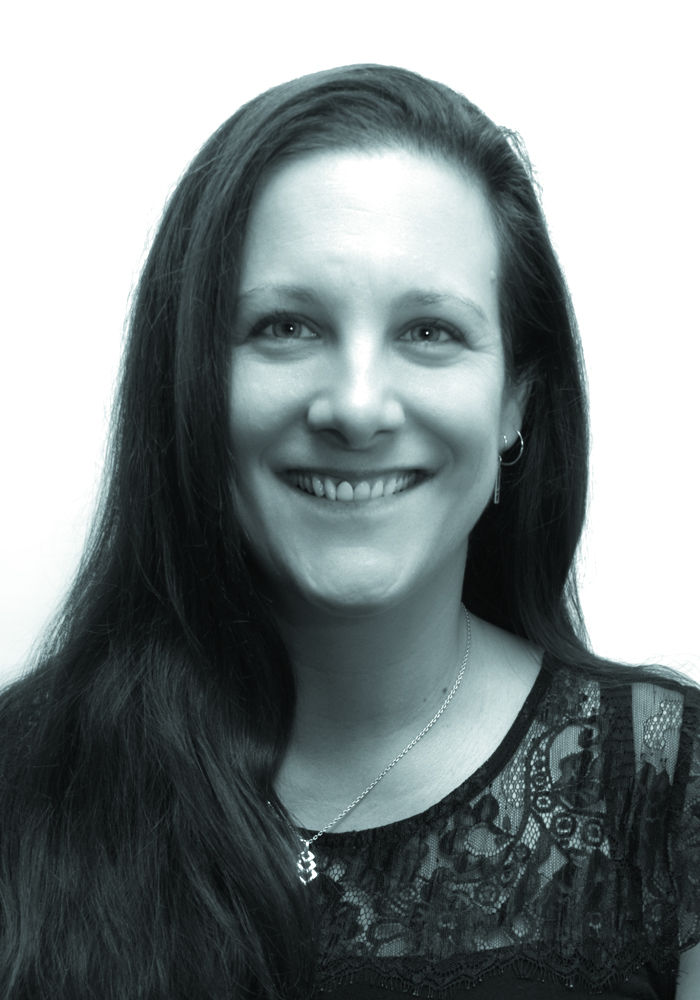 Jessica gained her Bachelor Degree with QTS in 1997 and spent the next 10 years working as a Primary School teacher, specialising in Music. After a couple of years at a school in Bristol she moved to Valencia, where she embraced the Spanish way of life to the full. During her 6 years in Valencia, as well as teaching at the International School, she learnt to speak the language fluently & studied for the DELE Nivel Superior. On her return to the UK she continued teaching for another year and a half, before deciding on a career change.
Apart from wanting to incorporate her love of all things Spanish she had no idea what to do. Whilst scouring the internet and speaking to agencies she stumbled across Yachting Pages. She somehow managed to persuade the founder Steve Crowe and the then Sales Manager to give her an interview during which, with no sales experience; no prior knowledge of the yachting industry and virtually no computer skills, she convinced them that she was their ideal new sales executive. The rest is history!
Over the next few years she worked tenaciously, learning the industry & the YPMG products and honing her Sales & IT skills. All her hard work was noticed and she has won various company awards.
Jessica was made a sales team leader in 2011. She spent 2 years in this role, helping members in her team and assisting the sales managers with training, mentoring and team progression. Jessica really cares about her clients and believes that her strength lies in understanding their needs which has given her consistently high client retention rates.
Since the birth of her two children in 2013 & 2016, Jessica has returned to work, part time, as a Senior Relationship Consultant. She relinquished her role as team leader in order to maintain a sustainable work/ life balance whilst her two boisterous, Spanish speaking boys are growing up.
She has now relocated back to her home town of Rugby and continues to fly the Yachting Pages flag from her remote work office.
—
Zara Tremlett – Marina Manager, Port Luis Marina, Grenada.
Honorary Member of Association of Women in Yachting.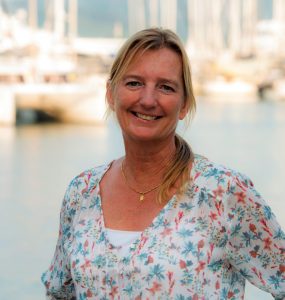 Zara was, until May 2018, the Marina Manager at Phuket Yacht Haven. She co-managed the 320-berth marina on the northeast coast of Phuket since 2002 and in 2016 became the sole manager. Zara has been involved in all stages of development at Yacht Haven, putting the marina firmly on the International Map. Prior to this she had a development and management role at Harbour Village Marina, Bonaire, in the Caribbean. In 2016 Zara was awarded Certified Marina Management (CMM) status; She is the first female to receive this recognition in the Asia region (one of about 250 Internationally). In addition to CMM status, Zara holds STCW 2010, RYA qualifications, has worked on various yachts & completed a World circumnavigation. Zara is currently an author for the Superyacht Services Guide, SE Asia.
Zara has been the secretary of the Thai Yachting Business Association, is involved with AUSTCHAM and a passionate advocate of environmental, educational and safety concerns. She studied at the "Science & Practice of Stud & Stable management in the Thoroughbred Industry" at the College of W. Oxfordshire.
—
Lauren Chiren – Keynote Speaker, Women of a Certain Stage.
Resident Menopause Expert & Honorary Member of Association of Women in Yachting.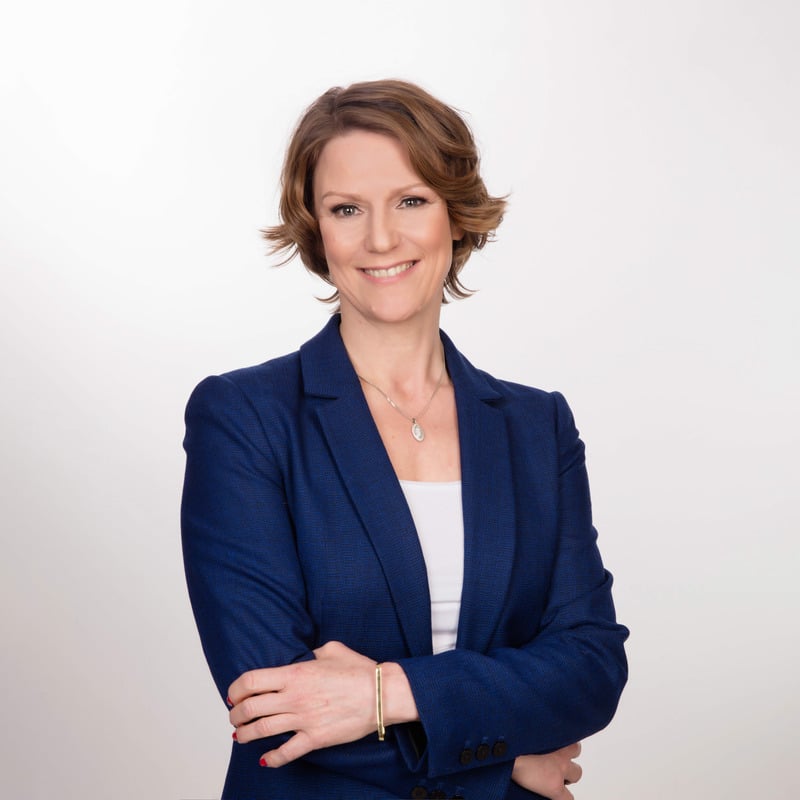 Lauren is a keynote speaker on executive women's wellbeing and an authority on menstruation & menopause at work.
She left her senior role in financial services, in her early 40's, believing that she was suffering from early-onset dementia. Imagine her surprise when her doctor informed her she had 'just' been through menopause?!
Today she educates employers on why being menopause supportive, is business savvy and supports high performing women to navigate the changes and challenges of all things hormonal, from monthly cycle to menopause.
As a trusted coach, mentor and keynote speaker, Lauren has helped thousands of executives, celebrities and athletes globally.
She holds qualifications in psychology, mental health, nutrition, coaching, personal training and more.
Lauren shares her knowledge and stimulates the debate on what being well means, at all stages of life, with insightful directness, commercial pragmatism and absolute passion for ensuring optimum wellbeing and resilience.
Lauren's goal is to transform global attitudes to menopause, helping organisations to support their teams through this transformation successfully and to empower women to retain their vitality and presence throughout their menopausal journey.
—
For more information or to request membership of the organisation, please contact Anna Percival-Harris & Emma Oakden on members@womeninyachting.co.uk